16th December 2010
On 16th December 2010, 15 devotees of Shri Prabhuji (Dr. Ramchandra Sathaye, Pune, Maharashtra) from Canada, U.S.A. and India, all Gujaratis, arrived under the guidance of Shri Deepak Dani, Toronto, Canada, in Omkarananda Ashram Himalayas.
17th December 2010
The evening brought a lot of surprise to the disciples of Shri Prabhuji Maharaj. A beautiful function was arranged in Omkarananda Vidya Bhawan after Arati in Omkarananda-Kamakshi-Devi Mandir.
The hall was nicely decorated with many beautiful lights in different colours. Apart from the devotees, also guests from South Africa along with Swami Narasimhuluji joined the get-together.
Shri Swami Vishveshwarananda, President Omkarananda Ashram, welcomed all the noble souls and appreciated their high spirits and deep devotion which they have towards Lord Mahakala-Bhairava, Shri Prabhuji Maharaj and Paramahamsa Shri Swami Omkarananda.
One of the highlights of the function came, when Kumari Somashekhari performed a splendid Shivanatha Dance. Somashekhari explained to the audience the meaning of the dance, which was immediately translated by Mr. Dani into Gujarati.
Somaji then, together with her students Neha and Pinky, showed their talent with several other devotional Dances. The disciples of Sant Prabhuji were immensely touched by Somaji's attractive dances.
Devi-Dance by Kumari Somashekhari.
After every dance Shri Swami Vishveshwarananda talked about the importance of the spiritual life and the devotional Indian Classical Dance as a way to God-experience. He also explained the great story of Shri Prabhuji and the wonders, which happened, when the Mahakala-Bhairava Mandir was built and Lord Mahakala-Bhairava statue was installed.

Swami Vishveshwarananda also spoke about Gurudev Paramahamsa Omkarananda Saraswati and the life of this God-realized Saint and His wonderful activities in the Garhwal Himalayas in form of immense educational works for the benefit of thousands of children.

Shri Daniji himself translated nicely all the words of Swamiji into Gujarati.

Soma and her students concluded the function with Omkarananda Arati Dance.

Thereafter all the artists and the guests and devotees concerned were offered flower malas, which was responded to by a great clapping.

In the late evening everybody joined a Mahayajna in front of Lord Mahakala-Bhairava, which went on till midnight.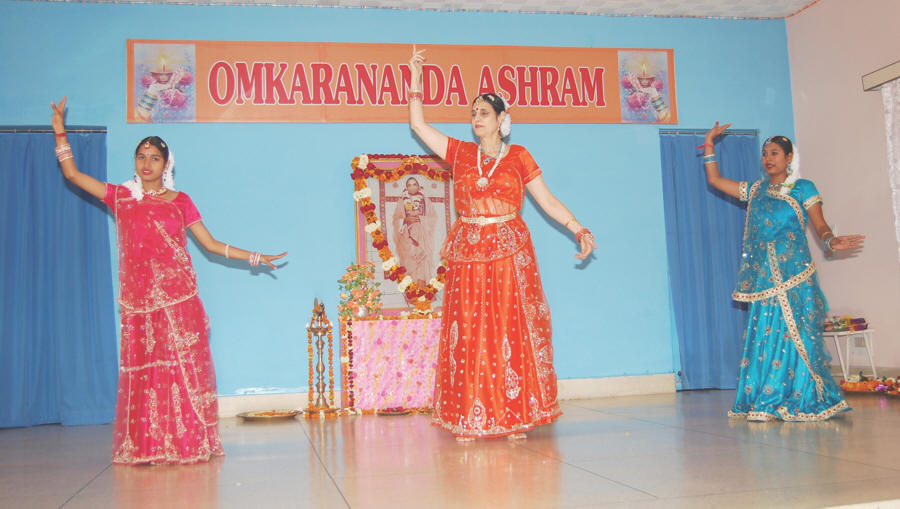 Devotional Dance by Kumari Somashekhari and her students.
Soma explains the meaning of the dances.
Swami Vishveshwarananda and Kumari Somashekhari
offer their Thanks to the disciples of Prabhuji.