Omkarananda Jayanti Celebrations, on 25th December 2010
The fourth day of Omkarananda Mahotsava is no doubt the main day. It is the day when the Birthday of Swami Omkarananda (Omkarananda Jayanti) is celebrated, the 25th December.
In the morning first Sundarkand was recited by the Priests along with musicians. After a short break, Swami Vishveshwarananda welcomed the audience in the shining and nicely decorated Omkarananda Vidya Bhawan, in Omkarananda Nagar, Muni-ki-reti. As it is a wonderful tradition, Swami Narasimhulu and Swami Pragyananda lighted the Deepas, standing on both sides of Gurudev Swami Omkarananda.
Ten small Sanskrit students, well dressed, showed their talent with a typical Vedic recitation in the North-Indian Shukla Yajurveda style.
The rhythmic Shiva Vandana Dance by Kumari Somashekhari was strongly responded to by the audience.
Kumari Parineeta from Mumbai, a topper in her class, read out in a perfect English pronunciation some "Words of Divine Wisdom" by Swami Omkarananda.
Lord Krishna most probably was very happy when He could watch a dance in His honour by Soma, Neha and Pinky.
It had a great impact on the audience when a recorded speech of Swami Omkarananda was played.
Gurudev, in his speech, emphasized on the importance of "Do It Now!" One devotee told later on to Shri Sukumarji, that after hearing the words of Swami Omkarananda, he got so inspired, that he will now finish his book immediately and not later.
Gopalacharyaji, with his musicians, made a sparkling contribution in a short but very powerful Katha style. He also appreciated the enormous works Swami Omkarananda did in form of Schools, Temples and Social Activities.
Swami Vishveshwarananda, the President of Omkarananda Ashram, highlighted in his Vote of Thanks the extraordinary spiritual and divine dynamism, which Swami Omkarananda expressed constantly, each and every moment. He was a personality, who lived, whatever He taught.
The Ashram Priests Suresh Panditji and Sanjay Panditji offered Arati and Pushpanjali to Gurudev Swami Omkarananda.
After the function everyone joined a well organised Bhandara.
Recitation of Sundarkand at the beginning
of Omkarananda Jayanti Celebrations.
Shukla Yajurveda Recitation.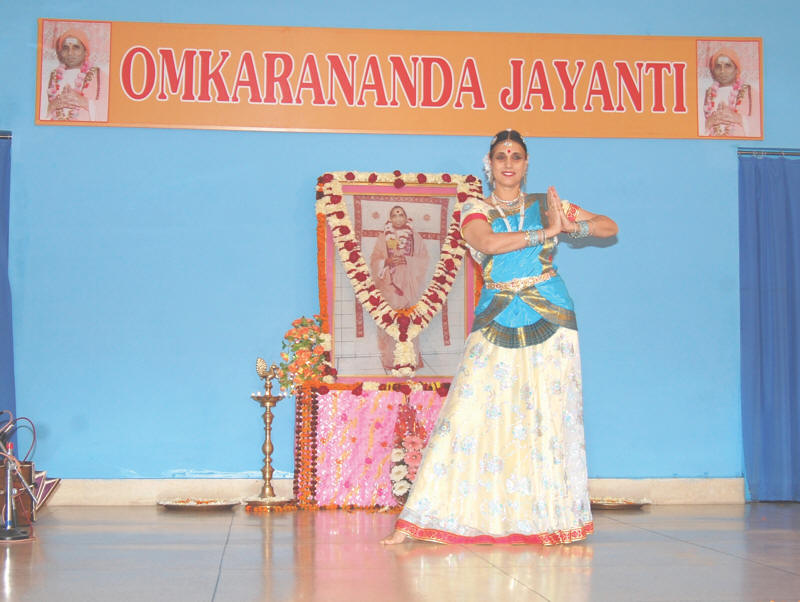 Kumari Somashekhari is presenting a Shiva Dance.
Krishna Dance by Kumari Somashekhari, Neha and Pinky.
Omkarananda Arati Dance
Vote of Thanks by Shri Swami Vishveshwarananda,
President Omkarananda Ashram.