Katha, Dance and Satsang on 24th December 2010
The 11 days Omkarananda Mahotsava started on 22nd December 2010 in Omkarananda Ganga-Mata Mandir, Triveni Ghat, Rishikesh, with a 3 days Katha function.
Shri Gopalacharya, a typical Katha Vachak, conducted the function.
The third day of Omkarananda Mahotsava, 24th December 2010, brought many surprises. It was the concluding day of the Katha programme. Powerfully as ever, Shri Gopalacharyaji started spiritual discourses and Bhajans with his musicians. More and more people visited the place to witness and to hear the words of the Katha Vachak.
After two hours Shri Gopalacharyaji announced that Soma and her students will give a dance performance. He praised Soma for her talent in the spiritual field and appreciated the perfect skill she has in speaking several Indian languages.
It was grand to see the smiling faces of the dancers wearing glittering Lahangas. The sparkling atmosphere became more and more powerful and when the musicians played, Soma started to dance spontaneously to their rhythm and songs. Shri Gopalacharyaji had to withhold his tears and he remarked: "Such scenes are not even seen in the heaven." Not only Gopalacharya, but some people in the audience too, got tears in their eyes. Soma concluded her dance programme with the Omkarananda Arati Dance.
Finally our Priests and others offered Arati to Gurudev Swami Omkarananda and to the great Katha Vachak.
The Kathavachak Shri Gopalacharyaji
and his musicians in Omkarananda Ganga-Mata Mandir, Triveni Ghat.
The audience listening to the Katha on the concluding day.
A devotional Krishna Dance by Kumari Somashekhari and her students Neha and Pinky.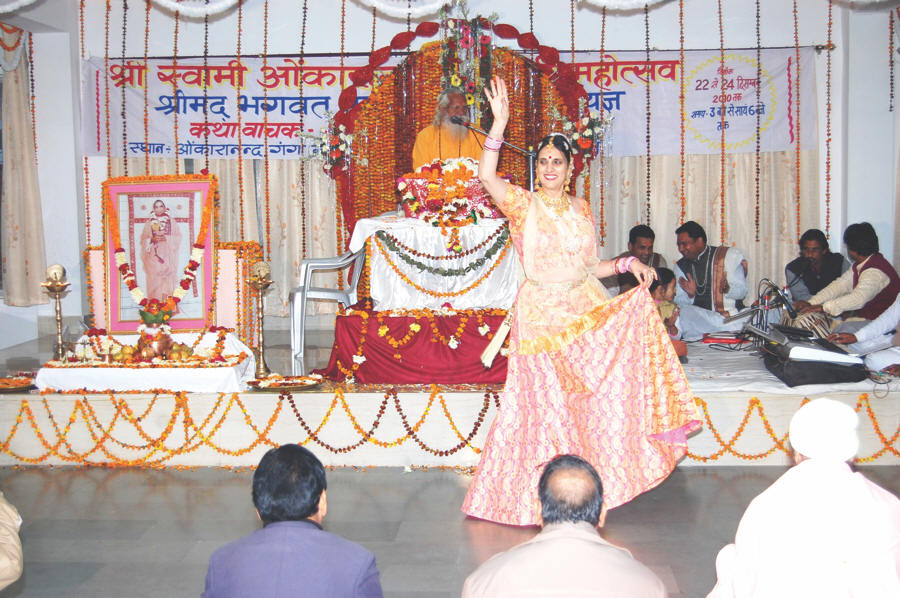 Somashekhari is dancing spontaneously to the rhythmic Bhajans played by musicians.
Radha-Krishna Dance by Kumari Somashekhari.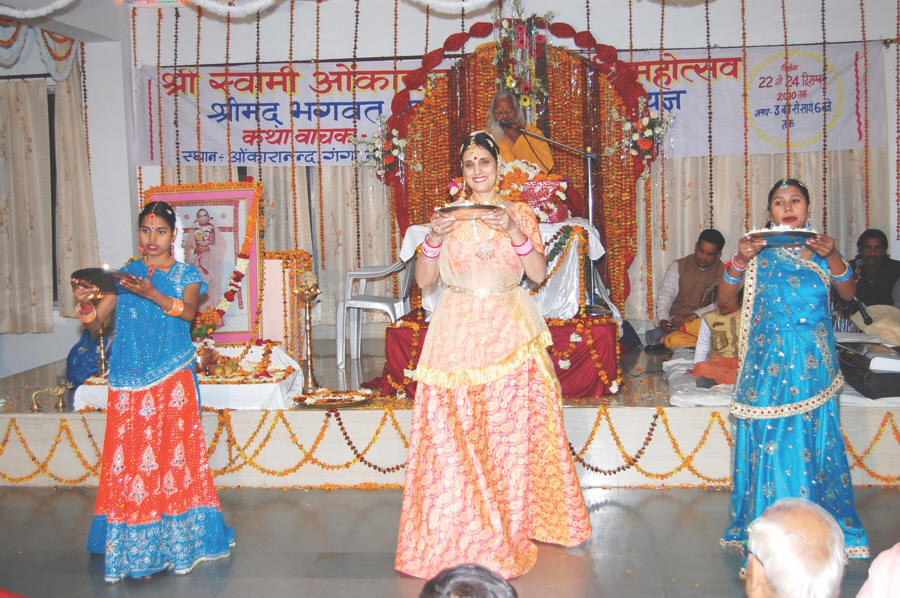 Omkarananda Arati Dance.
Arati by Swami Vishveshwarananda.
Gopalacharyaji is blessing Somashekhari with a Prasadam
for her extraordinary performance.