Special Pujas, Yajna, Dance and Arati on Omkarananda Ghat, Muni-ki-reti, on 1st January 2011
The new year started with Yajna, Dance and Satsang in the presence of the holy Mother Ganga at our Omkarananda Ghat in front of three temples of Ganga Devi, Hanumanji and Shiva-Parivar, which are beautifully built in South-Indian style.

The Hawana-Kunda was in front of Gurudev Swami Omkarananda's photo, which was nicely decorated with flowers and lights. The beauty of Gurudev's altar was enhanced through the serene flow of the Ganga river in the background.

Many important people joined this celebration.

The great attraction came, when Soma and her students, to honour Gurudev Swami Omkarananda, performed different kinds of devotional dances, concluding with Omkarananda Arati Dance.

Many people, also passers-by, could not resist having a glance of Soma's dance. Some police officials even skipped out of their duties and also enjoyed the scene.
After this Swami Vishveshwarananda Saraswati, President Omkarananda Ashram, thanked each and everybody for their assistance in making the altar for Gurudev, Puja, Yajna and everything so beautiful. In his words, which were being translated by Shri Siddhartha Krishna into Hindi, he emphasized on the importance of Yajna, the prayers at the holy river Ganges and he also spoke of the importance of the purification of one's own life for a fast spiritual progress. He then spoke on the life of Gurudev His Divinity Paramahamsa Omkarananda Saraswati, to Whom finally all the Credit goes and for Whom no Thanks are sufficient for all what He has done for each and every one.
Finally the Swami Omkarananda Arati and Ganga Arati were conducted and everybody got a small boat made out of leaves, filled with flowers and Deepas, which they could then offer to Mother Ganga.
Peacefully and silently these lights went with the flow of the water along the way of the river Ganges.
Some beautiful scenes of the 11 special days of this wonderful Omkarananda Mahotsava from 22.12.2010 to 1.1.2011, like speeches of Gurudev Swami Omkarananda, speeches of Swami Vishveshwarananda, different Aratis and devotional Dances can be seen under the subject "Videos" in the Website of Omkarananda Ashram Himalayas (www.omkarananda-ashram.org).
Auspicious start of the new year
with Yajna at the Omkarananda Ghat.
Maa Ganga behind is watching the special
prayers in honour of Swami Omkarananda.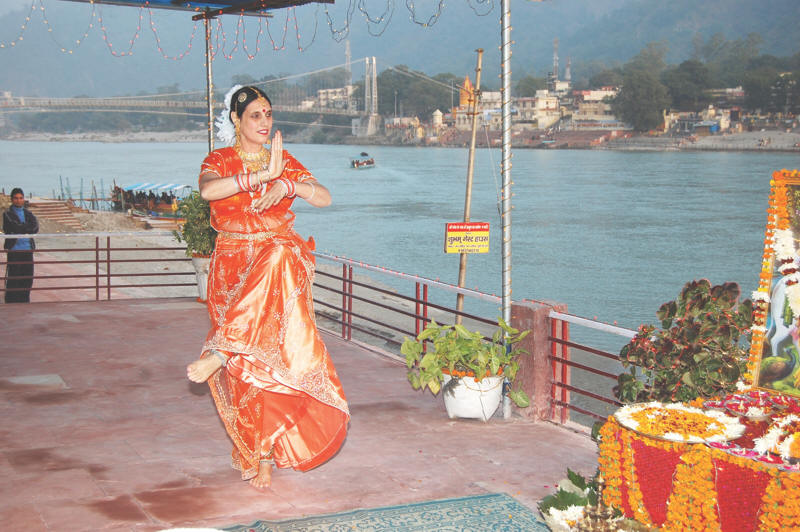 The holy Ganga makes a perfect background for the devotional Dances of Kumari Somashekhari.
| | |
| --- | --- |
| | |
| Soma explains her next dance item. | A dance dedicated to Lord Shiva. |
| | |
| --- | --- |
| | |
| | Offering of flowers by Soma and her dance students. |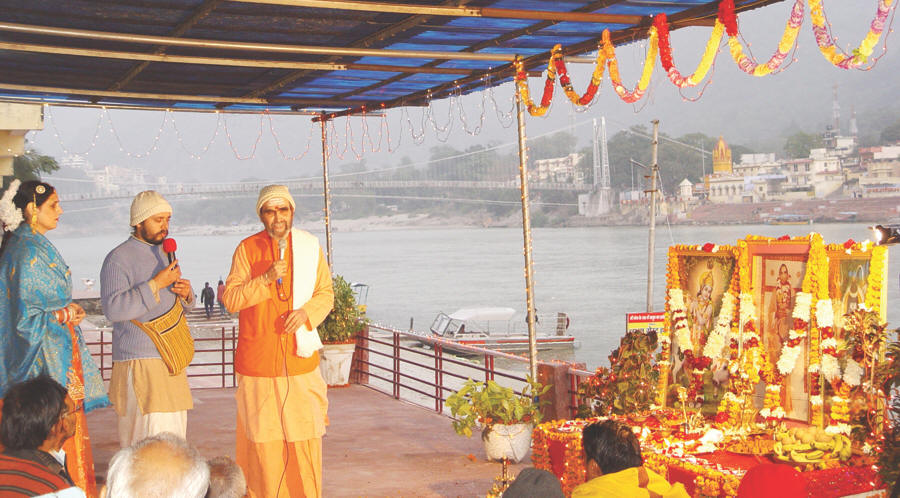 Shri Swami Vishveshwarananda addresses the public and highlights the importance of Guru and Ganga. Shri Siddhartha Krishna translates into Hindi.
| | |
| --- | --- |
| | |
| | Arati for Gurudev Swami Omkarananda and Ganga Maa. |
| | |
| --- | --- |
| | |
| Along with prayers Kumari Somashekhari offers Deepas and flowers to Maa Ganga. | |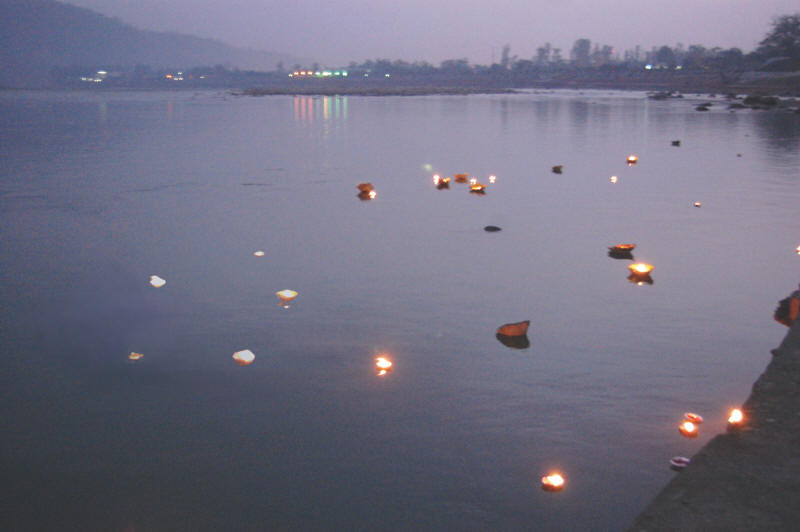 Maa Ganga is carrying away the shining lights, which have been offered on the concluding day of Omkarananda Mahotsava.