The final day of Omkarananda Mahotsava, starting in the new year, was beautiful and heart-touching. In front of the nicely decorated Altar of Gurudev, Puja, Yajna and Bhajan, Kirtan were conducted. The blue water of the Ganges and the warm sunlight made the atmosphere even more exciting.
Final Day of Omkarananda Mahotsava and starting of the New Year 2012




with a joyful Hawana on the Omkarananda Ghat by the holy River Ganga.

Yajna performed by
Shri Swami Vishveshwarananda.
Maa Ganga has witnessed the highly devoted, pure and divine dances of Kumari Somashekhari and her students. The dances were dedicated to Paramahamsa Omkarananda Saraswati to whom we are ever grateful for each and everything he has provided us.
With glittering Lehengas and smiles on their faces Kumari Somashekhari,
Neha and Pinky dance to different Bhajans.

Solo Dance by Kumari Somashekhari.
Swami Vishveshwarananda thanked everybody who has assisted to make Omkarananda Mahotsava successful. He emphasized that in this coming new year we should take a vow to make our lives more disciplined, better and more spiritual.
Mr. Malhotra in his final talk spoke about his great experiences which he had when he was working with Swami Vishveshwarananda, Swami Satchidananda and Kumari Somashekhari. He mentioned also the excellently organised function, Omkarananda Jayanti, which was held on 25th December 2011. He wished everybody for the coming year a successful and a healthy life.
On request of the audience Kumari Somashekhari sings a Garhwali Bhajan.

Swami Vishveshwarananda, in his speech, thanks everybody
and wishes a great start for the New Year to all.
Shri Malhotraji explains about the hard work done for
Omkarananda Mahotsava and Omkarananda Ashram in general by Swami Vishveshwarananda, Kumari Somashekhari and Swami Satchidananda.

Swami Narasimhuluji performing Arati.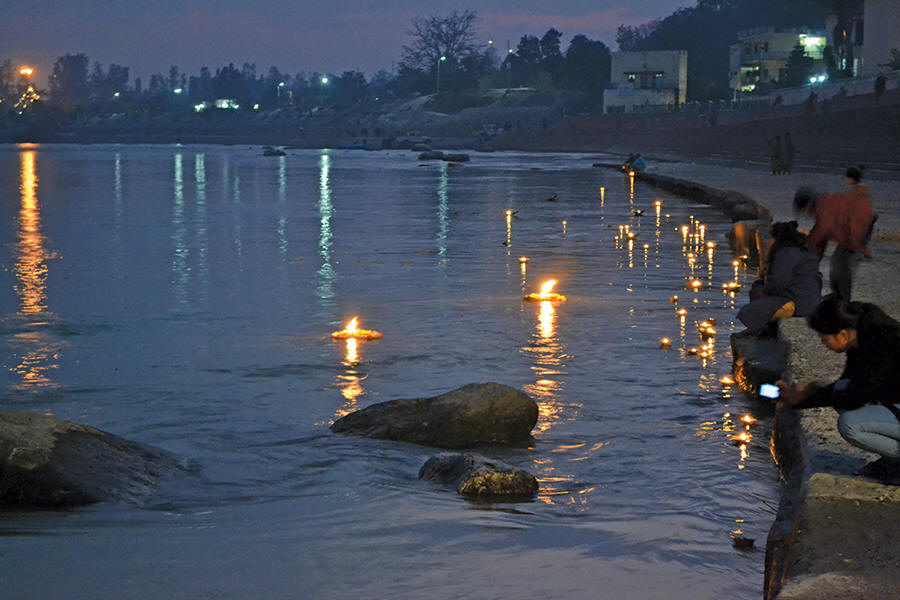 Maa Ganga receives shining Deepas at the conclusion of Omkarananda Mahotsava.