Mahashivaratri-Celebration on 16th February 2007
It was an exceptionally bitter-cold North-Indian night. But the air was sparkling with the mystical syllables and the powerful Mantras, surrounding the Temple – a rare evening.
After the Evening-Arati for Omkarananda-Kamakshi-Devi, the cultural programme in honour of Lord Shiva started. Shri Swami Narasimhuluji, Trustee of Omkarananda Charitable Trust, had brought a Devotee family from South Africa to our temple: Shri Kanthilal Premrajh, his wonderful wife Renukaji and their sweet daughter Diksha. They were joyously welcomed with flower malas by Swami Vishveshwarananda, President, Omkarananda Ashram.
Besides local devotees and guests, some other foreign devotees of Indian Origin took part in our celebration, Renu Gulati and her Mother Krishnaa, who is a teacher in England. They also were specially welcomed by Swami Vishveshwaranandaji.
Swamiji requested all honourable devotees and guests to enjoy a short and sweet cultural programme in honour of Lord Shiva, specially organised by Kumari Somashekhari.
The programme started with a powerful Shivabhajan, sung by our Ashram-Priests, accompanied with Dholak and Manjiras.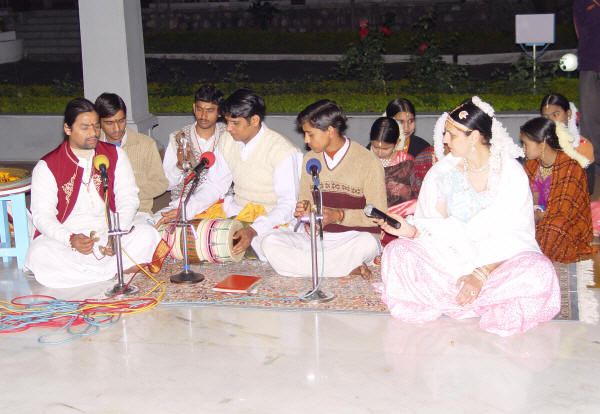 Then followed a Groupdance by Soma and her students, to a Shivabhajan in the Himalayan Garhwali language. Again Shivabhajans were sung jointly by the Priests, Soma and her students, followed by a Solo-dance of Soma, through which she described and worshipped the Glory of Lord Shiva.
Before the next dance-performance again Shivabhajans were sung, in which all joined. Since the concluding performance for Lord Shiva was again a dance to a Garhwali Bhajan, Somashekhari explained the beautiful meaning of it in Hindi and English to the audience.
This dance was a new item, which Soma and her students had specially prepared and intensively practised for this holy Shivaratri-celebration.
After conclusion of this worship of Lord Shiva through devotional dances and Bhajans, Swami Vishveshwaranandaji gave the Vote of Thanks and then he requested Mrs. Renukaji Premrajh, a very devoted and exceptionally nice and saintly Lady, to distribute some gifts to Soma's cute dance-students.
Renukaji took the mike and thanked specially Swami Vishveshwaranandaji for organizing such a beautiful cultural event in honour of Lord Shiva. She also expressed her deep admiration for Soma's dance, which she described as soothing, graceful and ravishing. Somashekhari heartily thanked Mrs. Renuka Premrajh for her encouraging and kind words.
Immediately after the cultural function, the devotees assembled in front of Gurudev Swami Omkarananda's Shrine, where the Omkarananda-Arati and Shiva-Arati were performed.
Afterwards Prasadam was distributed to all and our Pandits started the special Shiva Puja in Gurudev's Shrine, which lasted throughout the whole night, up to 4 AM, the next morning (17.2.2007).
Om Namah Shivaya Namah OM.