Dance Performance by Kumari Somashekhari
on the Holy Occasion of the 7th Anniversary Celebration of
Shri Gayatri Tapobhoomi Ashram, Gayatri Nagar, Tadas, Hubli (Karnataka) on Tuesday, 30.1.2007
The day in the life of Kumari Somashekhari was very special, when she could show her excellent ability in Indian Classical Dance in front of the prominent religious leaders from the South, like Shankaracharyaji of Shringeri, Sant Vishweshwar Teerth of Pejawar Math, Udupi, Karnataka, H.H. Vallabha Chaitanya, Mahant of Tapobhumi Gayatri Ashram and other spiritual personalities. Indeed it was a sparkling moment when Somaji in her highly glittering dance dress appeared in front of thousands of devotees of Gayatribhumi.
Every dance item was first explained by her in her classical Hindi, then followed by her dance to the holy rhythm of the spiritual musical items. The ovation of the assembled devotees was tremendous and the Shringeri Shankaracharyaji praised and appreciated the graceful contribution by Somaji, when he addressed the gathering.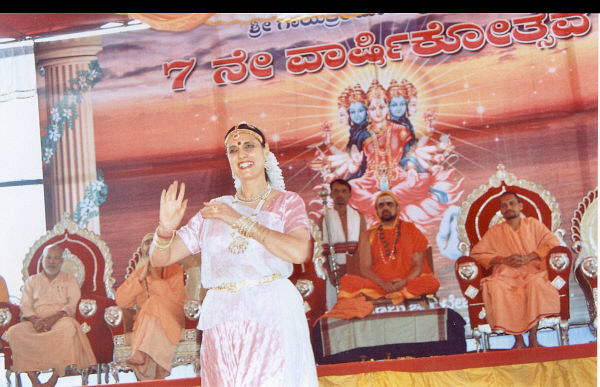 Somaji performs a typical Indian Classical Dance in front of His Holiness,
the Shringeri Shankaracharya and other respected Saints, who came from Himalayas to Karnataka.
The next day Karnataka media praised Soma as a centre of attraction of the event. Karnataka's prestigious daily newspaper "Samyukta Karnataka" has given her a place on the front page with a remark "Soma shines at Tapobhumi".
Her simple smiling and soft spoken attitude was undoubtedly putting her on the centre stage. When the correspondent asked her: "Do you have any idea of learning Kannada?" she said: "It is very sweet to listen to you when you spoke in Kannada, I love Kannada" and she also exclaimed: "Yours is Kasturi Kannada." "God-Realization through dance is my goal," she said. She loves South-Indian tradition and is quite advanced as far as the Tamil language is concerned. When the correspondents asked her first name, she quietly said: "I love the name given by my Guru Swami Omkarananda. It is sweet." She didn't forget to tell: "It is Parvati's name." In her flawless talk she told: "South-India is very divine, beautiful, colourful and versatile."
The air was vibrating by the constant chanting of the Vedic syllables. The smoke of the purifying fire of several Yajnashalas spread amidst powerful prayers over the entire place of worship.
It was the seventh annual Utsav-celebration of Shri Gayatri Temple in Tapobhumi in the quiet village of Gayatri Nagar, near Hubli, Karnataka.
The driving force and great spiritual personality of this wonderful Ashram is Shri Shri Vallabha Chaitanyaji Maharaj, very very simple, humble, but extremely divine in His appearance. His presence is dominated by the power of Gayatri Devi, which is uninterruptedly going on in His heart. He is like a manifestation, presenting Gayatri Devi in a living personality. Adorations to His holy feet.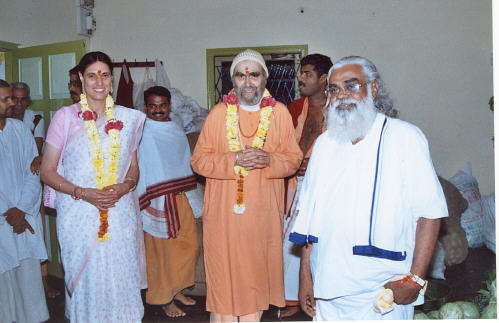 His Holiness Shri Swami Vallabha Chaitanyaji (right) is receiving Swami Vishveshwarananda,
President, Swami Omkarananda Saraswati Charitable Trust and Kumari Somashekhari,
Secretary, Swami Omkarananda Saraswati Charitable Trust.
The temple activities went in their special height when a grand Abhisheka was performed the next day with the assistance of Shringeri Shankaracharyaji. Along with the Vedic chanting, worshipping Gayatri Devi, great offerings were made and the people were delighted to receive the blessings of those ecstatic moments.
Among the special guests were Sannyasis from the Himalayas, many from Uttarkashi. Among those personalities who participated were Swami Premananda, Swami Anandji Raghava, Swami Ramswarupananda, Swami Gambheerananda, Kashi Basavarajendra Swamiji, Swamini Subhadra Mataji and others.
In the Satsang, H.H. Shri Swami Vishveshwarananda, the President of Omkarananda Ashram Himalayas, sitting next to Swami Vishweshwar Teertha of Pejawar Math, spoke about divine living and the importance of repetition of the Gayatri Mantra.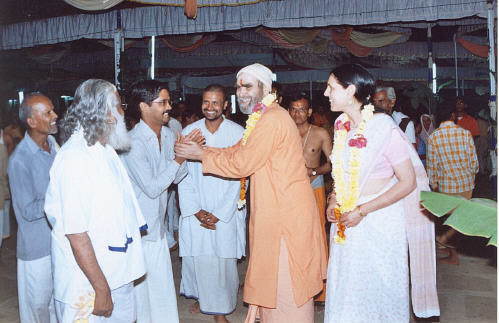 Guru Vallabha Chaitanyaji is looking on to Swami Vishveshwarananda, when he greets
Raju, Manager of Shri Gayatri Tapobhumi Trust. Between Raju and Swamiji one can see
Professor Sadananda Murtiji, Manager, Omkarananda Ram Mandir, Ghugtani, Rishikesh
To seek the special blessings of Gayatri Maa every evening more than ten thousand Deepas came alive and presented among chanting of Gayatri Mantra a pure heaven on earth. It was a very special moment when the crowd honoured our Gurudev Paramahamsa Omkarananda Saraswati when they chanted together: "Swami Omkarananda Maharaji ki Jay!"
In the concluding celebration, after several Satsangs, all the Swamis and important personalities were honoured in an exceptionally wonderful way.
Among important visitors were Members of Parliament, IS Officers and other important dignitaries.
Besides by the Newspaper Media, this auspicious event, including Soma's dance performances, was covered by Karnataka Television (DD Karnataka, ETV Karnataka) and other TV Channels.
May Goddess Gayatri keep that tremendous spirit of Tapobhumi all the time in highest esteem.