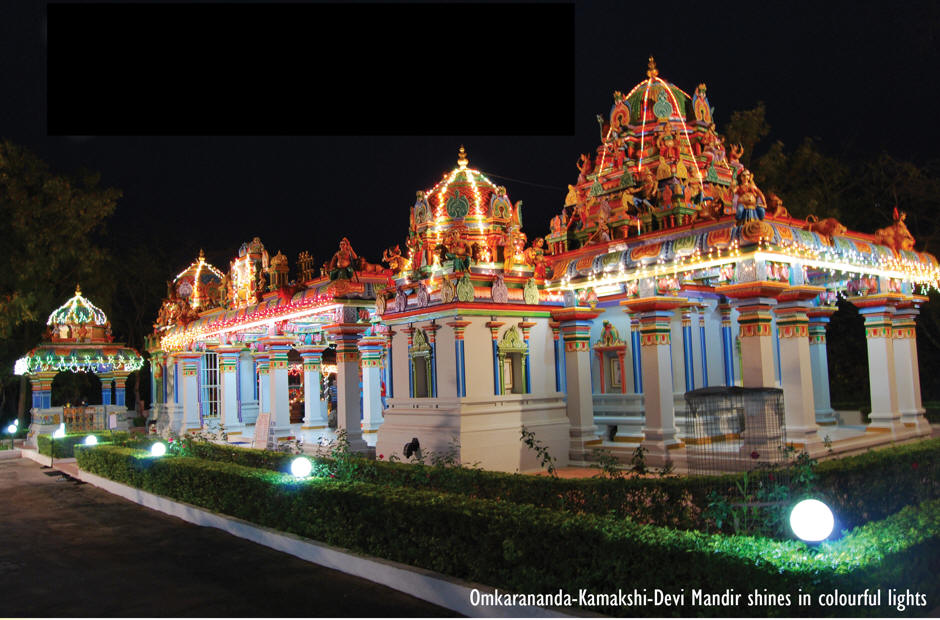 Twice in a year Navaratri is celebrated in Omkarananda Ashram Himalayas.
This Festival, dedicated to Divine Mother Durga, takes place in spring and in autumn.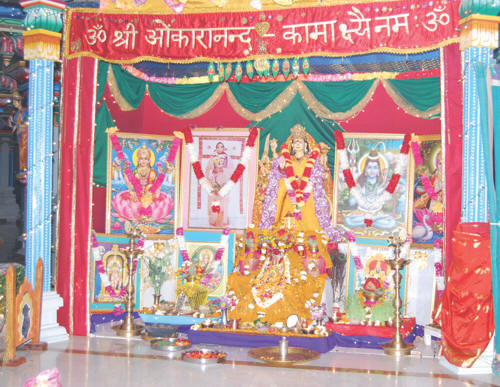 As every year the Priests have decorated a nice Durga-Altar.
A beautiful big Marble-Murti of Durga Maa is carried by the Priests out of Her "Home" in Omkarananda-Shanta-Durga Mandir, and placed for 9 or 10 days into a Pandal, specially erected and decorated for Her at the Yajnashala of Omkarananda-Kamakshi-Devi Mandir.
The Omkarananda Ashram Priests have a lot of extra work during the Durga-Festival, and so they have to spend many extra hours for the worship. But all of them really do their best.
In the morning special Pujas, Prayers and Arati were done for Durga Maa and in the evening time, additional powerful Yajnas were conducted.
All days of Navaratri are very special, but in spite of that, certain days during this Vasant-Navaratri were marked as special highlights:
First of all this Navaratri-Celebration took place during Maha-Kumbh in Haridwar, where Millions of people took a holy bath in the Ganga.
Secondly, from 19th to 21th March 2010, Omkarananda Ashram had the great honour to host important Swamis from Kauai's Hindu Monastery, Hawaii, U.S.A. They actively took part in the Pujas, Yajna and Arati . (Detailed Report about their visit, see here)
Arati by the Chief Priest Suresh and Kumari Somashekhari
Dance Performances by Kumari Somashekhari and her Students
On 20th March 2010, after the special Yajna and Aratis for the Devi were completed, Kumari Somashekhari gave an Indian Classical Dance Performance - 5 different dance-items in Bharatanatyam and the Temple-Style of the Northindian Kathak-Dance, alone, and with her students. These devotional dances were a part of the worship and they took place in the Temple-Hall, in front of Divine Mother Omkarananda-Kamakshi-Devi.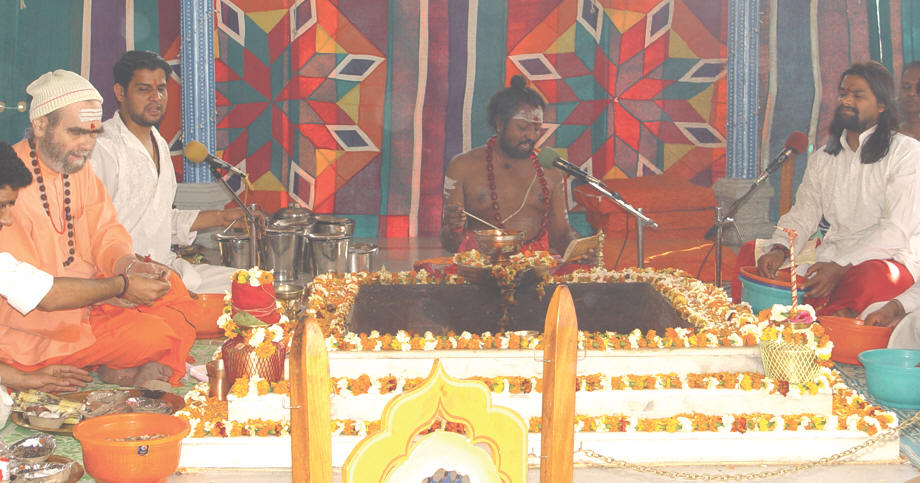 Yajna conducted by Sudhakar Sharma on Vijaya Dashami
Purnahuti by Sudhakar Sharma
Arati by Sudhakar Sharma
Another important highlight of this Navaratri-Celebration was the concluding day, Vijaya-Dashami, on 25th March 2010. It was a matter of great joy for all inmates of Omkarananda Ashram Himalayas, that the great and famous Shri-Vidya Scholar and Shri Vidya Priest, Sudhakar Sharma, from Chennai, was present and himself conducted the concluding Pujas and the concluding Hawana with the final Purnahuti. His beautiful and powerful recitation of the Mantras and his perfect way of conducting the Pujas, made this event very special for everyone.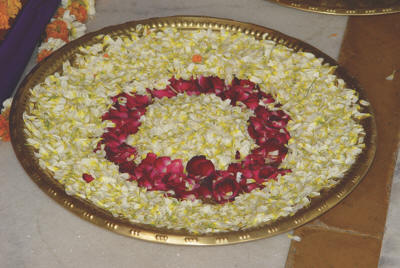 The Navaratri-Celebrations on this very same day were brought to an auspicious conclusion by the worship of nine Kanyas (small girls, below age of nine), one small boy as representative of Lord Shiva and a Suvasini (a married Lady, whose husband is alive). After Pujas had been done for all of them, they received very nice gifts and then they could enjoy a delicious Bhandara (lunch) in the Ashram.

Many devotees and visitors could enjoy these Navaratri-Celebrations in Omkarananda Ashram Himalayas and obtain the Blessings of Omkarananda-Shanta-Durga.
| | |
| --- | --- |
| | |
| Kanya Puja by Kumari Somashekhari | Kanya Bhandara |