On 9th November 2012 the President of Gayatri Tapobhoomi Ashram, Shri Swami Balakrishnananda Saraswati ( known before as Shri Vallabha Chaitanya), came to Omkarananda-Shanta-Durga Mandir, Muni-ki-Reti, Rishikesh, and personally invited Shri Swami Vishveshwarananda Saraswati, President Omkarananda Math, to grace the Celebrations of the 13th Annual Function of Gayatri Tapobhoomi Ashram, Karnataka, in February 2013.
Shri Balakrishnanandaji also invited Kumari Somashekhari, General Secretary Omkarananda Math, to come to Gayatri Tapobhoomi and render Indian Classical Dance-performances.
Swami Vishveshwarananda and Somashekhari joyously accepted the invitation since Swami Balakrishnananda is an extraordinary Saint and the functions of his Ashram are always unforgettable beautiful and divine.
The 13th Anniversary Celebrations of Shri Gayatri Tapobhoomi Ashram started on 21st February 2013, in Gayatri Nagar, Tadas, Hubli, Karnataka.
This Ashram is situated in a calm area, surrounded by nature, near the Mumbai-Bangalore Highway.
A big tent, along with a beautifully decorated huge stage, had been installed right next to the Shri Gayatri Temple.
Most of the invited Saints and Devotees had arrived already on the day before and they were ready to take part in the celebrations.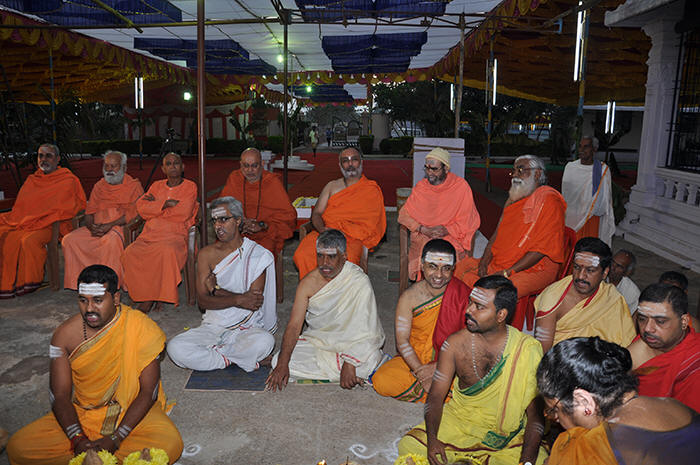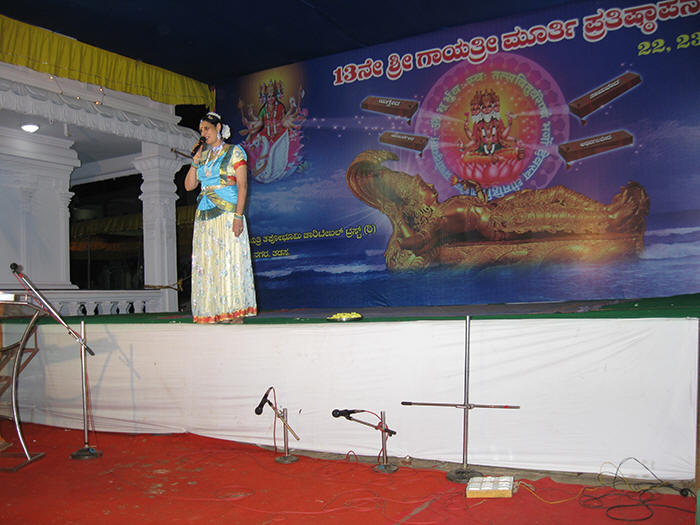 A typical Bharatanatyam dance-pose by Somashekhari.
Kumari Somashekhari performs a


spiritual North-Indian Kathak dance.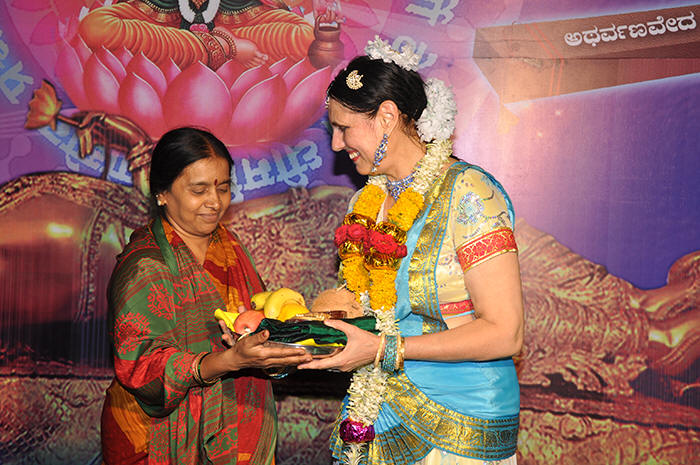 After various Pujas and Speeches of different great Scholars in the afternoon, everyone could take the Blessings of Gayatri Mata in Her Temple during the Evening-Arati.
The night time was reserved for Sangeet Seva and for this special occasion Kumari Somashekhari had been requested to give a dance-performance.
She was introduced to the audience in English and Kannada, the language of Karnataka, by the Master of Ceremony, Shri Raju, who is one of the important Members of Gayatri Tapobhoomi Ashram.
Then the Chief Priest of Shri Gayatri Temple called Soma and guided her to the stage among powerful chanting of "Jay Jay Mata, Gayatri Mata…!"
Before starting her dance as an offering to the Divine, Kumari Somashekhari addressed the audience with a few words in Kannada, expressing her Joy and Gratitude for getting the opportunity to dance during such a wonderful occasion.
Addressing the Devotees in their own language won a rousing applause for Soma.
She then began her Nrtya Seva - her divine offering through dance - with different devotional items dedicated to Lord Ganesha, Lord Shiva, Shri Radha-Krishna and the Divine Mother, praised in the Vedas.
After her dance-performance Kumari Somashekhari was honoured by an Ashram Devotee, Lakshmi Mataji, with a very nice flower-mala, a Temple-Sari and Temple Prasadam.
The audience was touched by the graceful and skilled performance of Soma.
Somashekhari, while still on the stage, expressed her deepest Thanks to all and especially to Lakshmi Mataji, a great Devotee of Gayatri Tapobhoomi Ashram, who worked day and night to serve all special guests with wonderful Prasadam, having always a smile on her face. Somashekhari said, that Devotees like Lakshmi Mata and many other volunteers like her, who silently work hard behind the scenes for a smooth running of this function, deserve special praise and thanks.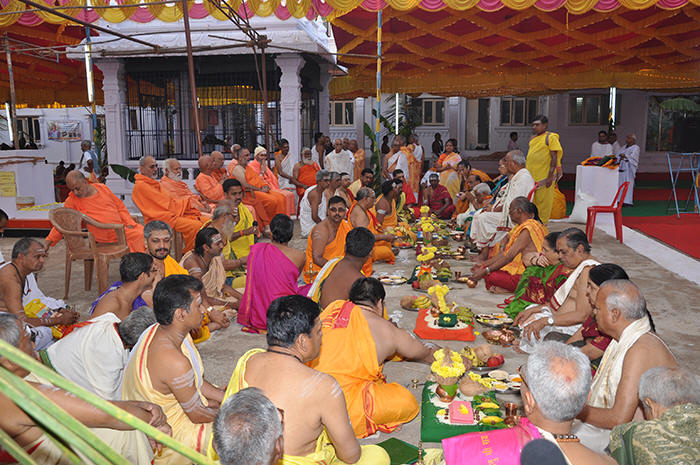 On 22nd February morning, at 4 am, Mahapuja was started in the Gayatri Temple and afterwards Ganapati Homa, Gayatri Homa, Subrahmanya Homa and Annapoorna Homa were performed by Expert Priests in different Yajna-Shalas around the Temple. Between 12 Noon and 1 pm Abhisheka for all Deities was done along with Mahanaivedya and Mahamangala-Arati.
Thereafter all Saints and Devotees took Prasadam and a short rest.
At 2 pm a beautiful Bharata­natyam dance-performance took place on the stage by Shrimati Lakshmi, a Bharatanatyam Dance-Guru from Hubli, and 20 of her young students. It was very nice to see so many lovely girls performing different devotional dance-items.

When their performance was completed, Kumari Somashekhari was given the honour to present Prasadam and gifts to the Dance-Guru and her students for their wonderful presentation.

After 4 pm the very much awaited Satsang of different great Saints, having come mostly from the far away Himalayas, took place.

Shrimati Lakshmi, a Bharatanatyam Dance-Guru from Hubli,


receives Prasadam and gifts from Kumari Somashekhari


for her excellent performance.
They were all seated on the stage along with Shri Swami Bala­krishnananda Saraswati.
Among them were: Paramapujya Jagadguru Shri Fakeera Siddharama Mahaswamij, Samsthan Math, Shirahatti, Karnataka; Paramapujya Shri Swami Vishveshwarananda Saraswati, President Omkarananda Math, Rishikesh, Himalayas; Paramapujya Shri Swami Premananda Saraswati, Shivananda Ashram, Ganeshpur, Uttarkashi, Himalayas; Paramapujya Shri Swami Ramaswaroopananda Maharaj, Himavan Caves, Ganeshpur, Uttarkashi, Himalayas; Paramapujya Shri Swami Gambheerananda Saraswati, Shivananda Ashram, Ujali, Uttarkashi, Himalayas; Paramapujya Shri Pranavananda Teertha Maharaj, Sholapur; Paramapujya Shri Dharanidasji Maharaj, Badridham, Himalayas; Paramapujya Shri Narayananand Swamiji, Rishikesh, Himalayas.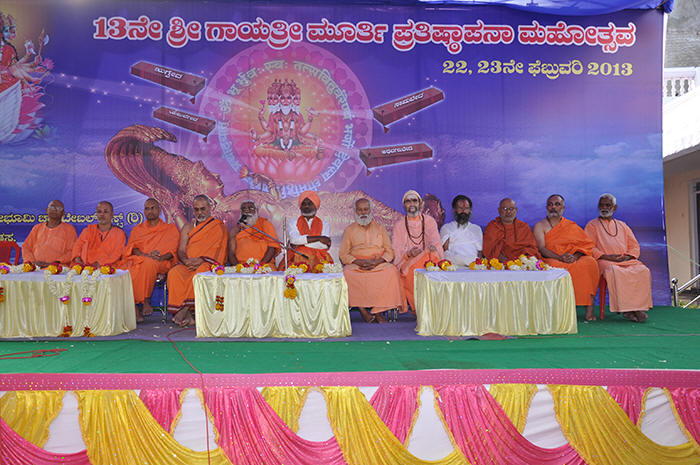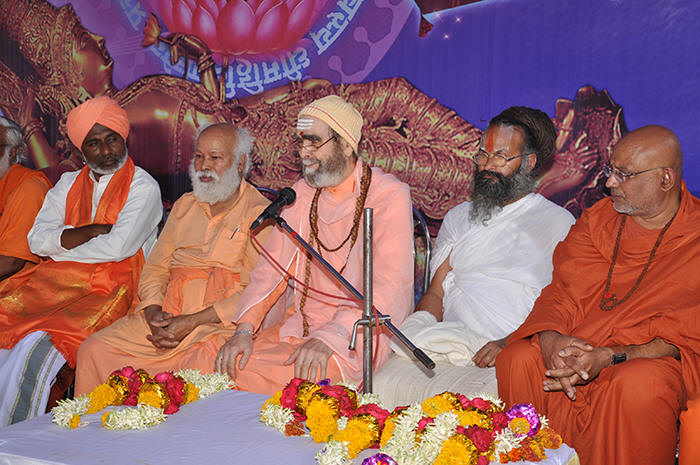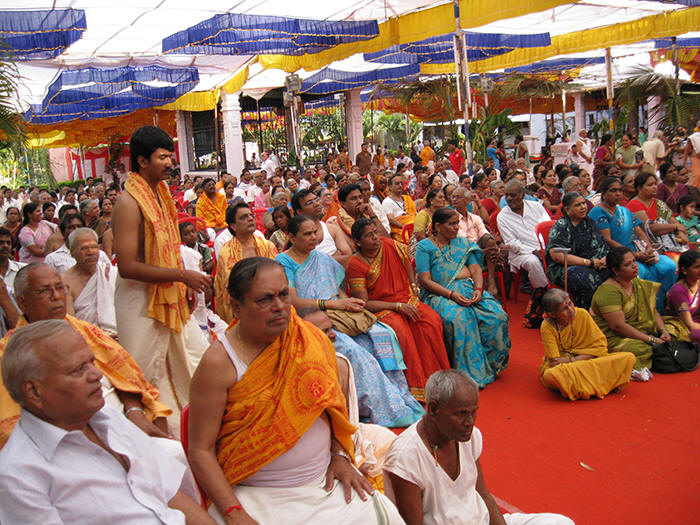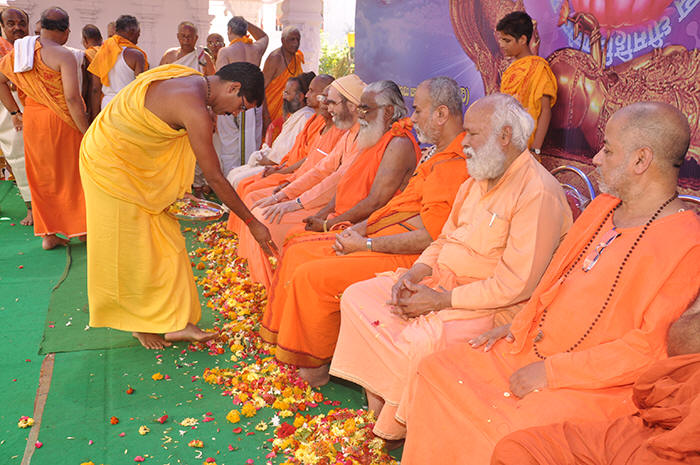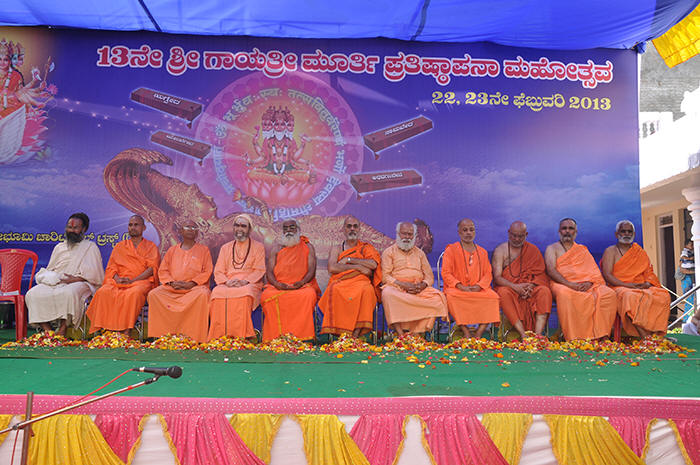 First all the Mahatmas were welcomed with flower-malas, while Vedic Scholars chanted different Vedic Mantras.
Then Shri Swami Balakrishnanandaji welcomed everybody and thanked them for joining this function.
Each Mahatma on the dais got the opportunity to give a speech. The Mahatmas, with their inspiring and divine words and blessed attitude, made all people feeling richer in knowledge and they responded accordingly.
When Shri Swami Vishveshwarananda Saraswati, President Omkarananda Math, addressed the audience, the whole environment got charged with a lively and divine energy. He spoke with such a brilliance and in such an inspiring way, that each and everybody was deeply impressed.
One of the Mahatmas, sitting on the dais and giving his speech afterwards, said, while addressing the audience, that he was deeply touched by Swami Vishveshwar­ananda's divine speech, and he felt, that each and every word of Swamiji carried the Power of Truth and therefore was like a priceless Treasure.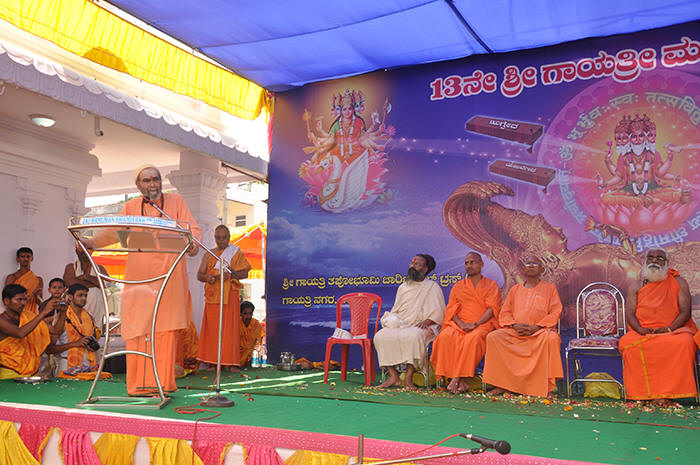 When all the Mahatmas had concluded their speeches, the night time had begun and everybody was called to a nearby field for the Deepotsava.
25,000 Deepas, arranged in different forms or shapes, in circles, waves, etc., were shining brightly under the dark night sky.
It was an amazing sight! Even the heavenly beings enjoyed it …
When all devotees, who could witness the grand Deepotsava, had returned from the nearby field back to the Gayatri Temple, they could experience another wonderful divine event, the procession of the Utsava Murti of Divine Mother Gayatri Devi in a nicely decorated Palaquin. She was carried around the whole Temple and Ashram Complex, while devotees were following Her and singing beautiful Bhajans for Her.
Throughout the whole night till next morning 2 am the Gayatri Tapobhoomi Ashram was resounding with life-performances of professional Indian Classical Musicians, who rendered devotional songs along with instrumental music.
On 23rd February 2013 morning, after the morning Pooja and Arati, an extraordinary Abhisheka was performed by Shri Balakrishnananda Saraswatiji and his Temple-Priests for Shri Gayatri Mata in her Garbha-Griha (Sanctum Sanctorum).
The Abhisheka lasted for more than one hour and such a type of Abhisheka may be hardly seen anywhere in any Temple in India.
33 ingredients were used for the Abhisheka for the Divine Mother, like 108 litres cow-milk, honey, curd, sugar, many different fruits (Grapes, Oranges, Pomegranates etc.), fresh leaves (Tulsi, etc.), and several huge flower-baskets with many varieties of fresh colourful flowers and flower-petals, different kinds of dry fruits and nuts (Kismis, Cashewnuts, Almonds, etc.) and other precious things, like fragrant Kesar, Cardamom, Chandan, Kumkum, Haldi, fresh Coconut-Water, etc. etc. Each ingredient, which was used for the Abhisheka, revealed a very special and distinct appearance of the Gayatri Murti, for example, when the tiny red-coloured fruit pieces of pomegranates were showered over Gayatri Mata, it looked as if many shining precious red gemstones - real rubies - were adorning the Devi.
One by one, softly and carefully, these ingredients were poured and showered lovingly over the Pranapratishtha Murti of Gayatri Mata.
The Priests constantly chanted Veda Mantras and hundreds of Devotees watched in awe.
In the end of the Abhisheka a shower of many coins was made flowing over the Devi, which looked and sounded like a water-fall.
Afterwards the curtains of the Temple were drawn for a short time, since the Divine Mother Gayatri Devi was given fresh clothes and ornaments and decorated with many fragrant flower-malas, before She again gave Darshan to all.
Agnidevata in all the different Yajna-Shalas around the Temple was simultaneously present, and after the grand Abhisheka of Gayatri Devi was completed, all the Priests performed Purnahuti.
Prasadam was distributed to all.
In the afternoon again all Mahatmas were requested to sit on the dais, on the beautiful stage, since a special ceremony was to unfold for them in the presence of hundreds of Devotees.
A special Pada-Puja was made for each of them, and a lot of flower-petals were showered over their holy feet.
Then Shri Swami Balakrishnanandaji personally honoured all of them, including Swami Vishveshwarananda, with nice shining shawls, beautiful flower malas and a very special Prasadam.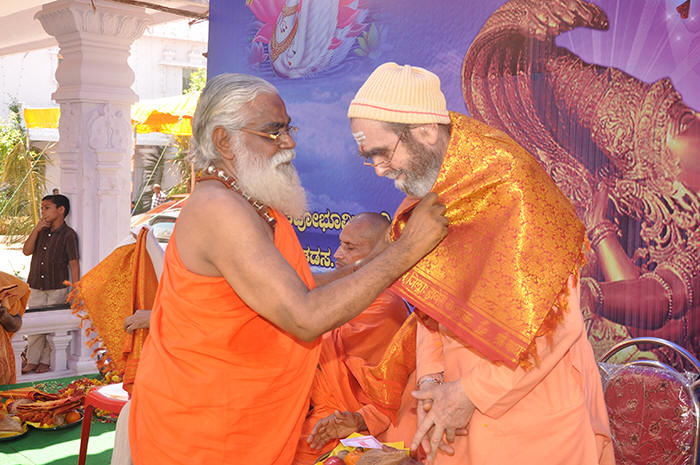 During this Ceremony Swami Vishveshwarananda Saraswati spontaneously went to the mike-stand and expressed in a lively and joyous way his deep admiration for Shri Swami Balakrishnanandaji, his beautiful Ashram, his great Devotees and the marvellous way Puja and Abhisheka are conducted in Gayatri Tapobhoomi Ashram.
Everyone immensely liked Swami Vishveshwarananda's spontaneous speech. All were clapping loudly in appreciation and Swami Balakrishnanandaji smiled happily…
In the night again another grand Deepotsava took place on the nearby field, with 25,000 Deepas lighting up the whole environment.
Afterwards, till almost midnight, a continuous stream of many many Devotees, mostly from Karnataka or Goa, came to the Kutir, in which Swami Vishveshwarananda Saraswati was staying, to take his Blessings and hear his words of Wisdom.
Throughout the whole function a resident Ayurvedic Doctor of Gayatri Tapobhoomi Ashram looked after the wellbeing of Devotees and whenever necessary rendered help to them with free medical check-up and free medicines.
Surely there was not a single Soul, who did not feel deeply blessed by the Grace of Gayatri Mata. All, who had the great privilege to take part in the 13th Anniversary Celebration of Shri Gayatri Tapobhoomi Ashram, will definitely forever cherish this rare and divine event.