That is the aim of Kumari Somashekhari, Secretary of Omkarananda Saraswati Charitable Trust.
And that is the way Soma has been teaching hundreds of children.
The Vedic Art of this Divine Dance demands hard work, high precision, patience and great purity to be successful.
To further strengthen the knowledge and to go deeper into this divine art, a great opportunity was given to Soma, when she came in contact with Shri Deepak Mazumdar, in Mumbai.
Deepak, who started his career at a very young age has become a great exponent in the field of Indian Classical Dance, specially Bharatanatyam.
He is known as the Dance-Teacher and Dance-Composer for Hema Malini, the famous film-actress, as well as Nitu Ambani (Reliance), the wife of the presently richest Indian, as well as the Film-Actress Gracy Singh (heroine of film "Lagaan") and many, many more talented artists.
Deepakji went out of the way to teach to Somashekhari within the shortest span of time a beautiful dance-item from the Bharatanatyam Temple-Repertoire, which she already could present to devotees, who were visiting Omkarananda Ashram.
Shri Deepak Mazumdar is a devotee of Lord Krishna (Shri Nathji) and Sant Prabhuji. His dance-room is converted into a beautiful temple.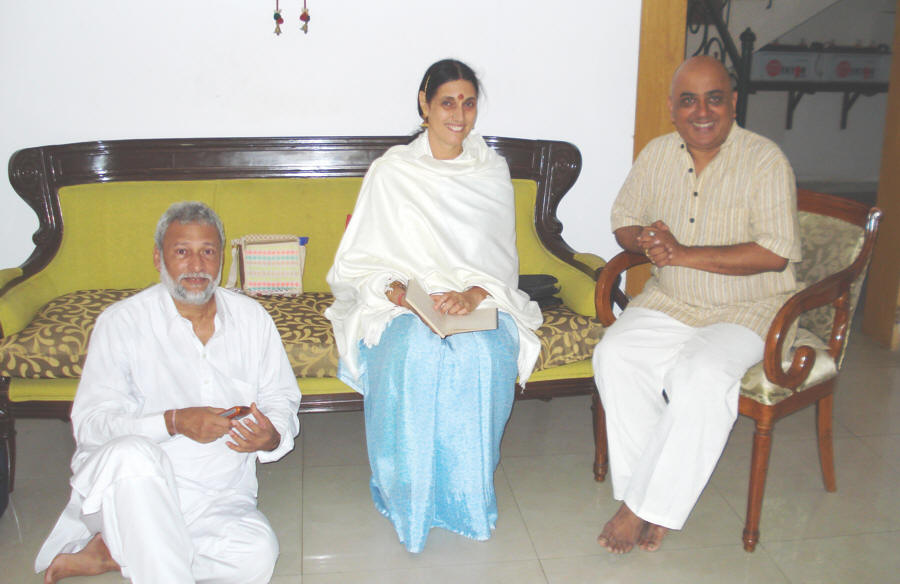 Shri Deepak Mazumdar (right) together with Kumari Somashekhari and Shri Deepak Randhive