A Blissful Day in Mauritius
Mauritius, a small island in the Indian Ocean, is like a shining star on the heaven. The country is full of sugarcane and sweet are the people who are living over there.
Narasimhulu Swamiji Maharaj, Swami Vishveshwarananda and Kumari Somashekhari, on special invitation, could have a glance of the beautiful traditional Hindu Temples in Mauritius.
Mr. Praveen, a retired Higher Education Inspector and a staunch devotee of Swami Venkateshananda, took the pain in introducing them to many important places of worship. Besides that, his own house is more of a Temple than a common living place. Each family member of him is trained in the teachings of Swami Venkateshananda, who is their beloved Guru.
Venkateshwara Temple in Mauritius is no doubt excellently located and has a long standing attraction. On 19th June 2007 evening, Kumari Somashekhari was the great attraction, when she gave her Indian Classical Dance Performance in typical Temple style. She had been specially invited by the Temple Committee to perform divine dance-recitals in front of the Deities as an integral part of the Puja.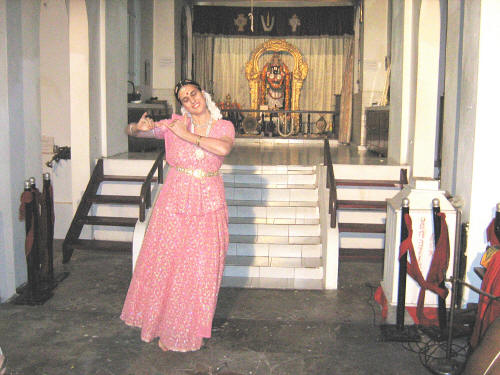 But before that the Manager of the Temple gave an extensive introduction on mike to the huge crowd of devotees assembled about H.D. Paramahamsa Omkarananda Saraswati, the great Mystic, Sage, Philosopher, Writer, about his nominated Successor, Shri Swami Vishveshwarananda, President of Omkarananda Ashram Himalayas, about the activities of Omkarananda Ashram Himalayas, and about Kumari Somashekhari, General Secretary of Omkarananda Ashram Himalayas and Indian Classical Dancer. Then the Manager requested Swami Vishveshwaranandaji to talk to the assembled devotees.
In his divine speech, Swami Vishveshwarananda emphasized the importance of the spiritual life, purity and devotion towards the wonderful, everlasting Vedic culture. He concluded with great spiritual advises of Shri Swami Omkaranandaji.
Then Somashekhari was requested in Sanskrit by the South-Indian Temple-priests to start her temple dance performance as a part of the worship. She explained every Temple dance item for different Deities in her perfect Hindi language, touching the divine essence of every movement. She created such a wonderful atmosphere that some devotees in the audience could not stop their tears, seeing Somaji in her graceful dance, in front of the majestic Lord Venkateshwara.
Guest of Honour was Shri Swami Narasimhuluji Maharaj, who is already having long standing association with the Temple authority and is a Gurubhai of Shri Swami Venkateshananda.
After conclusion of Puja, Arati and Prasadam, Mr. Praveen, Secretary of the Temple Committee, introduced Narasimhuluji, Swami Vishveshwarananda and Kumari Somashekhari to the Personal Assistant of the Prime Minister of Mauritius, who had attended the temple-function and was full of praise for the beautiful contribution of Somashekhari and Swami Vishveshwaranandaji's inspiring words.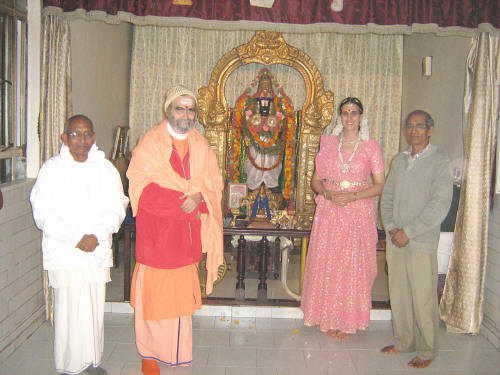 From Left to Right: Shri Swami Narasimhuluji, Swami Vishweshwarananda Saraswati,
Kumari Somashekhari and Shri Praveenji.
Devotees and Management Committee Members of the Venkateshwara Temple assembled around Swami Vishveshwaranandaji, Swami Narasimhuluji and Kumari Somashekhari. They thanked Swami Vishveshwarananda deeply for having inspired them with his divine lecture. They described Swami Vishveshwarananda as a charismatic and divine personality and Guru and they expressed their heartfelt wish, that more often such auspicious events should take place in Mauritius.