Freeeye.TV Germany as a Producer for NDR (Norddeutscher Rundfunk) made recordings for a Documentary Serial with the title "With 80,000 Questions around the World".
The team travelled all over the world raising numerous questions on different topics, in several countries. In January 2011 the German Film-Team visited India, specially Madurai, Bangalore, Mumbai, Delhi and finally Rishikesh, Omkarananda Ashram.
The team, while planning the trip, made research on different websites on Spirituality, and the German TV Producer found Omkarananda Ashram an interesting and ideal place for their research programmes in the religious field.
When the German TV-Team arrived in Omkarananda Ashram Himalayas many questions regarding spiritual development, social activities, Indian Classical Dance, Yoga etc. were highlighted and recorded. Several interviews were taken with the President of Omkarananda Ashram, Shri Swami Vishveshwarananda Saraswati. Also Aratis and special prayers were on the list. The working style of the TV-Team was fine and it was a smooth process.
Kumari Somashekhari highlights the beauty of




the Indian Classical Dance during shooting.

German TV Camera-man Matthias Sdun and Dennis Gastmann,


Reporter, NDR Fernsehen, Germany, discussing with




Swami Vishveshwarananda.
In the end a small function was conducted, where Kumari Somashekhari and her students showed them the value of the true Indian Classical Dance.
When the main person of the Film-Team was asked, after visiting 36 countries around the world, to which of all of them he was mostly attracted, he spontaneously referred to India. All Members of the Film-Team left in a very happy mood and were very satisfied.
The programs were telecasted successfully in Germany and adjoining countries.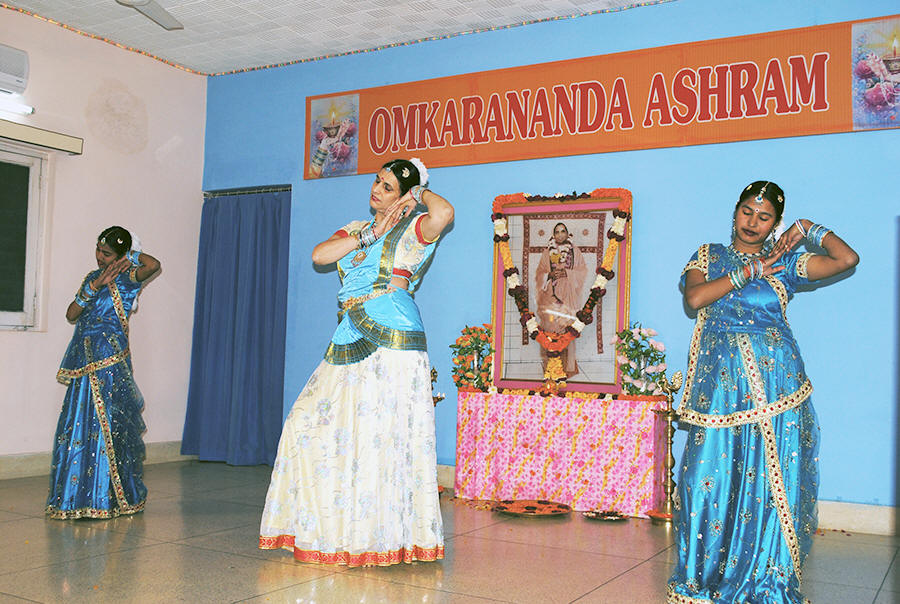 Kumari Somashekhari and her students show their talents

for the German TV in a typical Indian Classical Dance performance.