After the successful function of 14th November 2010 in the Ganesha Temple, Mayur Vihar, Delhi, again Swami Vishveshwarananda and Kumari Somashekhari were requested by Shri R. Krishnamurthy to attend another spiritual event at the same place, the 22nd Mandala Pooja Celebrations, organised by Lord Ayyappa Devotees from Kerala.
The auspicious start of these Celebrations was on 17th November 2010, when Swami Vishveshwarananda Saraswati, President Omkarananda Ashram, was specially invited for a speech and Kumari Somashekhari was requested to give an Indian Classical Dance Performance.
First Swami Vishveshwarananda addressed the audience and explained about the activities of Omkarananda Ashram and then about Somashekhari and her Dance Academy, which is affiliated to Prayag Sangit Samiti, Allahabad.
In front of the very selected guests, Soma presented in the first item, a Bharatanatyam Dance, dedicated to Lord Ganesha. In the second item she worshipped Lord Shiva and finally she danced in Adoration of Lord Vishnu.
The audience, mainly devotees from Kerala, expressed great appreciation for this highly professional contribution by Somashekhari.
In the end Shri R. Krishnamurthy offered on behalf of the organizers 2 small Lord Ayyappa Murtis, made out of 5 metals, as a special gift to Swamiji and Soma.
An honourable Member of Parliament from Kerala and many other important guests had attended the function.
| | |
| --- | --- |
| | |
| Mr. Krishnamurthy introduces Somashekhari. | Swami Vishveshwarananda offers Thanks for the kind invitation. |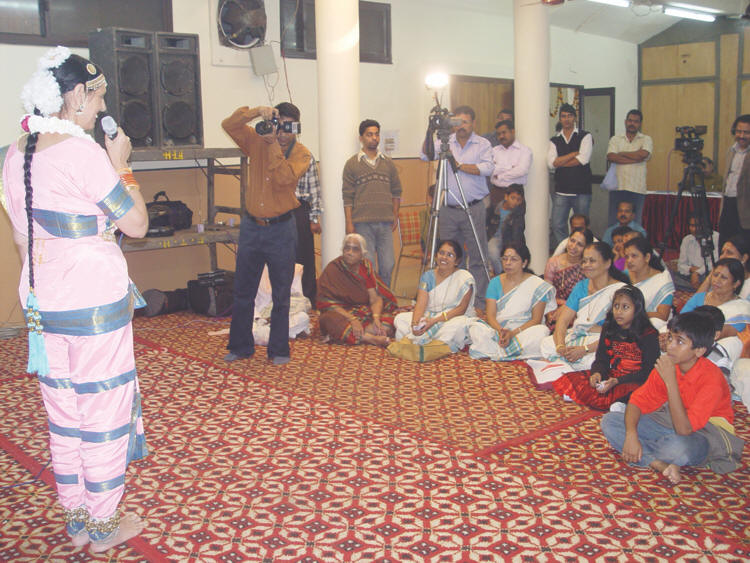 Somashekhari explains the dance, which she is going to perform.
| | |
| --- | --- |
| | |
| Dance Performance by Kumari Somashekhari. | The dance is offered to the Divinities. |