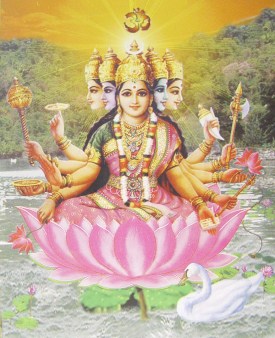 Pune could witness an exceptionally great 2 days Function, dedicated to GAYATRI MAA. This Maha-Event was organized by Shri Gayatri Tapobhumi Charitable Trust, Gayatri Nagar, Hubli, Karnataka, and it's President, Shri Vallabha Chaitanyaji, along with Bharatmata Satsang Mandal, Chinchwad, Pune.On the huge ground at the Jnanprabodhini Highschool, Nigadi, Chinchwad, Pune, a very beautiful tent had been erected to celebrate along with Saints and devotees from Maharashtra and also from Saints and devotees of Karnataka, Himalayas and other places of India, the consummation of the Japa-Yajna, since more than a Crore Japa of the holy Gayatri - Mantra had been completed by hundreds of devotees from Pune, Maharashtra, with the inspiration of the great Saint and spiritual Master of Shri Gayatri Tapobhumi Ashram, in Tadas, near Hubli, Karnataka, Guruji Shri Shri Vallabha Chaitanya Maharaj.

Other Koti Gayatri Yajnas had been already conducted with the Blessings of Gayatri Maa and Shri Vallabha Chaitanyaji in other places of India, like in Hubli, Bangalore, Mumbai, Delhi, Hyderabad, etc. etc.

For the 16th Koti Gayatri Yajna the holy town of Pune was selected.

The Main-Functions of this Celebration were scheduled for 18th and 19th April 2009, but already on 17th April, all Yajna-Shalas in the tent were established in a pure and scientific way. Preparations for the Main-Functions went on in a very hectic but still dynamic and joyful way. Gayatri Mata was beautifully decorated. The volunteers, working hard in different fields, were introduced to the invited Saints by Shri Vallabha Chaitanyaji personally. There was a sparkling, divine atmosphere among everyone. Children were dancing, scholars, saints and friends were exchanging thoughts and on the dais singers and accompanying musicians entertained the audience with Bhajans and Kirtans. Arrangements for breakfast, lunch and dinner for hundreds of devotees had been made at the venue.
Welcome of Shri Vallabha Chaitanyaji outside Pune-Airport
Swami Vishveshwarananda with other Mahatmas
in the chariot during Shobhayatra in Pune
The main-programe started on 18th April 2009 with the Dwajarohan, Punyaha Vachan and Devata Sthapana in the early morning.
Around 10 am Yajnas were started by expert Vedic-scholars and Pandits from Maharashtra and Karnataka, like Navagraha-, Ganesha-, Subrahmanya-, Annapurna-, Kuber-, Saraswati-, Lakshmi- Homa and Gayatri Mahayajna.
At 12.30 pm Mahamangalarati was performed.
In the afternoon, from 4 PM, a most beautiful procession of the Utsava Murti of Gayatri Maa was started along with the Shobhayatra of Mahatmas and Saints from different parts of India, sitting in beautiful, shining chariots. It was indeed a wonderful sight, seeing the huge, attractive chariots moving through the roads of Pune, accompanied with a crowd of devotees, children and adults, singing and dancing enthusiastically in spiritual emotions.
Shri Shri Vallabha Chaitanyaji had specially invited Saints and Jagadgurus to grace this rare and holy event:
Shri Shri Swami Vishveshwarananda Saraswatiji, His Holiness Omkarananda Math, Rishikesh (Himalayas)

Shri Shri Vishweshwarateertha Swamiji, Shri Madhwacharya Maha Samsthan, Shri Pejawar Math, Udapi (Karnataka)

Shri Shri Basavaraj Swamiji, Gayatri Tapobhumi, Tadas (Karnataka)

Shri Shri Sachidanand Swayamprakash Yatiwar, Hariharpur (Karnataka)

Shri Shri Swami Pranavanandateertha, Vedant Kutir, Solapur (Maharashtra)
All these great Saints and Mahatmas blessed the devotees, while moving in the chariots through Pune.
When the Shobha-Yatra was completed, around sunset-time, all Mahatmas were guided into the tent and seated on the Dais, honoured with beautiful flowers and flowergarlands and introduced, one by one. The tent was full with hundreds of devotees, who waited eagerly to listen to the words of blessings by these Mahatmas.
Everyone was stunned, when Shri Swami Vishveshwaranandaji, President of Omkarananda Math, Rishikesh, Himalayas, spoke in a mesmerizing way, describing the greatness of Gayatri Maa and Her Representative, Shri Shri Vallabha Chaitanyaji, and the benefits of Gayatri-Mantra Japa. Swami Vishveshwaranandaji emphasized, that we should always think of Gayatri Maa, not only in bad times, but also in good times. We should not repeat the Gayatri-Mantra mechanically, but with love and devotion, and we should live in such a way, that we remember and worship Gayatri Devi every second of our lives. Swami Vishveshwaranandaji spoke in such an intense, divine, charismatic and inspiring manner, that many times he was interrupted with spontaneous, thundering clapping from the attentively listening Mahatmas and devotees. Swamiji urged all the devotees to take spiritual advantage of the presence of such a great Saint like Shri Vallabha Chaitanyaji, whom he described as a real manifestation of Gayatri Maa.
Shri Swami Vishweshwarteerth, from Pejawar Math, Udapi, a highly recognized Saint from Karnataka, spoke about the essential need in today's time to be in constant touch with the prayers on Gayatri Maa. His speech was deeply appreciated by the public.
All other Mahatmas on the Dais, blessed the devotees by their speeches and additionally, a great Sanskrit-Scholar, too, addressed the audience with a speech on Gayatri Maa in fluent Sanskrit.
Shri Vallabha Chaitanyaji informed the audience about the prayers to Gayatri Devi, which were done by many people in different States of India. He also thanked the Mahatmas for joining this Function and he appreciated the hard work by the Organizers and the Members of his Trust.
After the Benediction by Mahatmas was completed, Bhakti-Sangeet was on the programe. Kumari Somashekhari, Secretary of Swami Omkarananda Saraswati Charitable Trust, Rishikesh, had been specially invited from the Himalayas to perform devotional dances on this holy event. Before starting her dances Somashekhari addressed the devotees of Pune with a few sentences in Marathi language. Soma's professional style and devotion, which she showed in the Indian Classical Dance, were highly recognized by the audience, and even the Saints, who were watching the dance, showered praises on her for the graceful performance, she contributed to the devotees.
Afterwards, till late night, other devotional dance- and music-programes went on.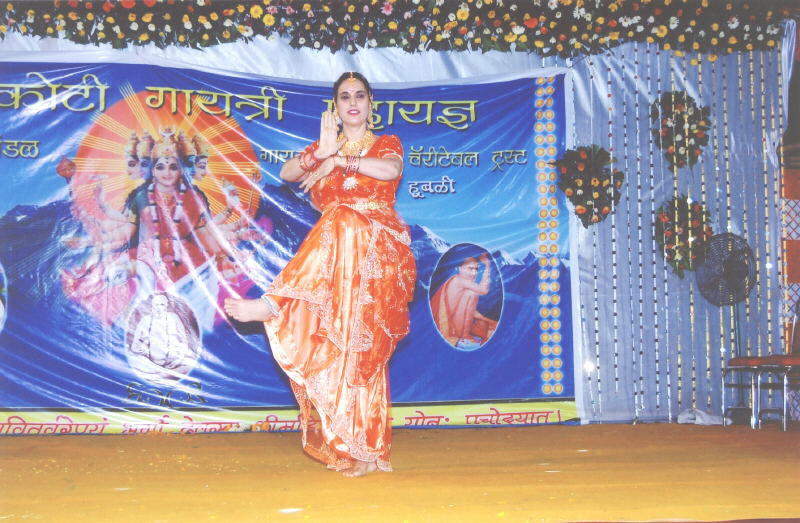 Somashekhari is presenting an excellent Dance-performance for the Devotees attending the Function
The function on the next day, on 19th April 2009, started with resumption of all the Yajnas in the early morning hours, which was followed by Kumarika Pujas, Gayatri Kalasha Pujas, Dampati Pujas, Kumkum-Archanas, in which a lot of devotees from Maharashtra and Karnataka could take actively part.
The great moment of this holy function arrived, when Poornahuti and Mahamangalarati were performed by Shri Vallabha Chaitanyaji and others, among most powerful Vedic Chanting by the skilled Pandits.
After conclusion of those important rituals all the specially invited Mahatmas were invited for Padapujanam and Felicitations.
With Ashirwachan by all the Swamijis and Prasad Distribution by the Hosts, this unforgettable divine, inspiring event came to an end.
Divine Mother Gayatri Devi had showered Her Blessings on so many devotees with this beautiful inspiring 16th Koti Gayatri Yajna.
Kumari Somashekhari speaks a few words
in Marathi to the audience before
her dance-performance
Devotees watching the Function