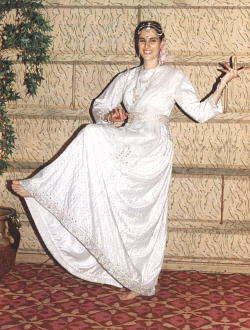 Guru-Bhakti-Ratna Kumari Somashekhari
giving a performance at an International
NRI-Conference in New Delhi.
Guru-Bhakti-Ratna
Kumari Somashekhari
is a direct disciple of
H.D. PARAMAHAMSA OMKARANANDA SARASWATI
and the General Secretary of Omkarananda Ashram Himalayas.
She has studied Bharatanatyam and Odissi from prominent Gurus, like Dr. Yamini Krishnamurti, Dr. Minati Mishra and other renowned personalities. She also got intensive training in North-Indian Kathak dance under various dance Gurus from Jaipur, Mathura, Calcutta, Lucknow, Benares, etc. and earned a Prabhakar title for Kathak dance from Prayag Sangit Samiti, Allahabad.
Presently she gets training in Bharatanatyam Temple-Dances by the great Bharatanatyam Guru Shri Deepak Mazumdar, Mumbai.
Kumari Somashekhari has specialized in the devotional aspect of Indian classical dance. Her aim is to revive the ancient Temple-Style and propagate dance as Sadhana, as a way to God-experience. Her dance is a pure dedication to her beloved Sadgurudev Shri Paramahamsa Omkarananda Saraswati.
Kumari Somashekhari has performed before distinguished gatherings in India and abroad and has been applauded by art lovers and critics for her authentic depiction of moods, for her grace and flawless presentations of various dance forms. One of her memorable performances was during an India-NRI World Convention when she won spontaneous applause. Her dance has several times been broadcasted in various TV-Channels in India and abroad. Somashekhari's dance performances have been shown in Indian and Foreign Documentary-Films.
The efforts in her cultural field earned her the prestigious "Mahila Shiromani Award". Later on she also received other Awards, like "Natya Ratna Award", "Rashtra Shakti Award", etc.
On 13th May 2019 Guru-Bhakti-Ratna Kumari Somashekhari was honoured with the "Bharatiya Shastriya Nritya Shiromani Award" for Excellence in Indian Classical Temple Dance and Vedic Culture by the Senior Citizen Welfare Organization (Reg.), Rishikesh.
Besides her love for Indian classical dance, Kumari Somashekhari has a great love for the Indian classical music. She received training in Karnatic vocal music, playing the Tambura and the Veena, and she also studied Hindustani vocal music.
Somashekhari sings devotional songs in different Indian languages, whenever she is asked to do so, like in Hindi, Sanskrit, Brijbhasha, Garhwali, temporary and ancient Tamil and Telugu.
The Honour Kumari Somashekhari cherished most was, when Gurudev Shri Paramahamsa Omkarananda Saraswati gave her the title "Kalanidhi".